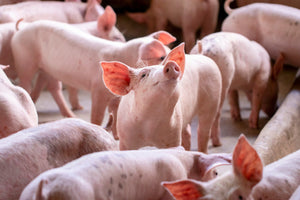 Unraveling California Prop. 12
The Supreme Court has officially ruled in favor of California Proposition 12. This proposition directly affects the pork supply in California, whether purchasing in store or online.
Pederson's Farms and Prop. 12
At Pederson's, one of our top priorities is animal welfare. Because of this focus, our farms have been Prop. 12 and Q3 compliant since 2014! Our farms are third-party Animal Welfare Certified. We believe that animals should be raised with the care and respect that they deserve, and we fully support Prop. 12 and Question 3.
The passing of Proposition 12 and Question 3 proves that today's consumers are concerned with animal welfare, too, and prefer cage-free, ethically sourced products.
By choosing pork from Pederson's Farms, you can rest assured you're getting ethically sourced and superior quality products.
Our dedication to animal welfare and high-quality pork products continues to position us as the preferred choice among chefs, grocery stores, and consumers alike.
Our vertically integrated approach allows us to ensure the ethical treatment of our animals, and the delivery of high-quality products. Join our endeavor to Make the Best, Better.
PROP. 12 & Q3 COMPLIANT PORK
PROP. 12 & Q3 COMPLIANT BACON
Every bacon we produce is Prop. 12 compliant and has been for over 9 years! With 16 bacon varieties available, we offer organic, non GMO, and sugar free options.
SHOP BACON
PROP. 12 & Q3 COMPLIANT FRESH PORK
Our fresh pork offerings have been Prop. 12 Compliant since 2014. Coming from Duroc-sired hogs, it is some of the most tender and perfectly marbled pork you can find!
SHOP FRESH PORK