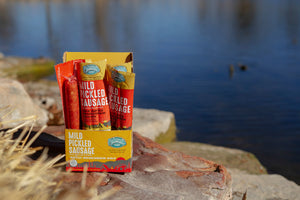 THE PERFECT ON-THE-GO SNACK
MILD PICKLED SAUSAGE
Introducing Pederson's Farms Mild Pickled Sausage, the all-natural, gluten-free snack that packs a punch of pickle flavor in every bite! Our pickled sausages are made from only the highest quality, all-natural ingredients, with no sugar, red 40, or gluten.
Perfect for on-the-go snacking, in a lunchbox, or as an addition to your charcuterie board, these pickled sausages are a crowd-pleaser. Our sausages are shelf-stable, so you can take them with you wherever you go, whether you're hiking, tailgating, or traveling.
So ditch the boring snacks and switch to Pederson's Farms Pickled Sausage for a taste you'll never forget!
Download Media Assets
Don't Compromise on Quality
A Snack Experience Your Customers will love
At Pederson's Farms, we're committed to delivering a superior snacking experience by removing the ingredients that we know our customers don't want. Our customers understand that less is more, and they trust us to provide protein options that are both healthy and satisfying. 
Choose Pederson's Farms Mild Pickled Sausage and show them that quality always comes first!