HOW TO COOK BEEF BACON
Did you know? Our Uncured Beef Bacon has 75% less fat than regular pork bacon.
BEEF BACON COOKING INSTRUCTIONS
Beef bacon is chopped and formed and cooked like turkey bacon. For these reasons, it does not need to be cooked as long as traditional pork bacon.
3 WAYS TO COOK BEEF BACON
STOVETOP
Use a large pan over medium heat with a small amount of your cooking oil of choice. Cook over medium heat for 6 minutes and flip. Cook this side for an additional 3 minutes then flip as often as you like to get both sides cooked to desired doneness.
MICROWAVE
Place bacon on a microwave safe plate lined with 2 layers of paper towels. Place bacon on paper towels and cover with an additional layer of paper towels. Cook for 3.5 minutes on high. Remove from the microwave and let sit for 1 minute. Microwave for 30 sec to 1 minute longer if you like it more crispy.
OVEN
Preheat your oven to 400° F. Place bacon on a rack set over a rimmed baking sheet, or, if you don't have that, line a baking sheet with parchment paper. Place beef bacon on the rack (or parchment paper) with a small amount of space between each slice. Bake for 5 minutes. Flip each slice and bake for an additional 3-5 minutes.
UNCURED
HICKORY SMOKED BEEF BACON
This six simple ingredient Beef Bacon is perfect for those who don't eat pork. Versatile and tasty, try it in any recipe that calls for bacon. This bacon is chopped and formed.
More About Beef Bacon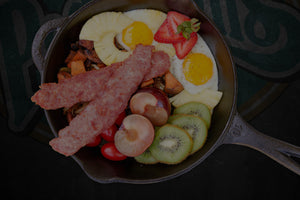 ARE YOU WONDERING
WHAT IS BEEF BACON?
Check out our blog answering all your beef bacon questions!
Let's Go